MoHo services
of your motorbike hotel in Kaprun
Since September 2008 we are a proud member of the MOHO Bike Hotel community in the category MOHO 4 helmets providing exclusive services to our guests at the motorbike hotel in Kaprun.
For our motorbike hotel Kaprun guests this means:
We do provide everything you need for your perfect bike vacation in Salzburg
We know what we are talking about and have set our main focus on "Bike & More: Wellness & Pleasure" which means you  get a professional tour planning service with the local know how about the best tours combined with the **** services and a welcoming atmosphere in our Hotel. The Sportkristall is the ideal starting and meeting point for motorbike friends
We are happy to provide you with an individual bike package.
---
MoHo - bike hotels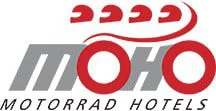 MOHO - Bike holiday with experts since 1996
The hoteliers are experts in bike holidays and know what is important for their guests. Competence, passion and individual tour advice are paramount. Only who can guarantee this, becomes member of "MoHo - Motorrad Hotels".

Certified quality – come to stay with a Motorbike Hotel - MOHO
Services and facilities are provided by the use of 3 classifications
---
The perfect region for your motorcycle holiday
Zell am See-Kaprun is situated in a breathtaking alpine landscape in the province of Salzburg . Especially the famous Großglockner – the highest alpine road in Austria – is "the place to be for Motorbikers".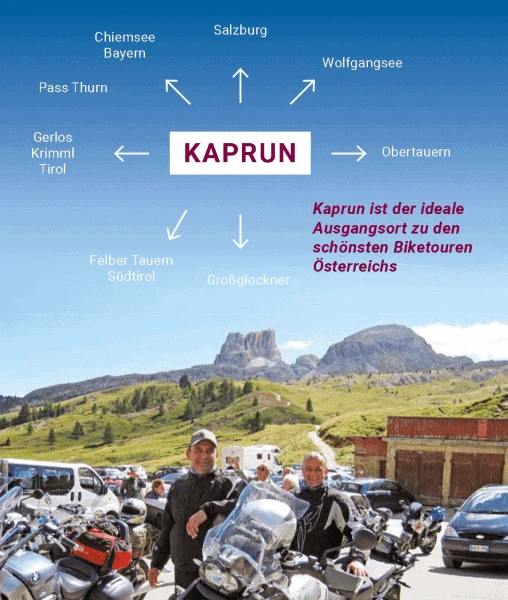 ---
MOHO motorbike hotel Kaprun: services
Bike-Info-Corner bikers Information A-Z
Motorbike tour maps of the region
Motorbike magazines
Informations  on bike dealers, garages, gas stations, local events and much more….

Allocation of tour informations
elaborated tours
Roadbook or Tour maps  for the region
laminated MoHo Powercards (small extra fee)
Bikers HAD bandanna (small extra fee)

Tour planning assistance
Tour informations
Recommendations for sightseeing points
Tips for best biker restaurants
Information for Sightseeing spots
---
Helmuth and Karin Vötter are also biker. Directly upon check in we will provide all the tour information and most recommanded tours adjusted to your bikers competence.

Actually they are almost always around to give you the perfect tips. Helmut does a daily "morning journal" with our guests informing about conditions and most recommended trips.

As off 15 persons we will be happy to organize a local experienced Bikeguide, such as our good friend of the family Günther who rides a BMW and knows the best secret tours of the region.
---
Programm for the bike free days
Sport, Culture, Events
Weekly packages with special highlights
GPS-Touren
To be downloaded from the Homepage
And even more to get in the Hotel
Bikers Tool corner
with tools to do small repairs yourself
chain sprays
cleaning facilities
Washing area for the bikes
Waterhose, sponges and cleaning supplies
Parking area
for trailers and
for bikes (covered – a few are possible locked as well)
Drying room
Dry facilities for the bike clothes if they might get wet
Shoe dryer
Laundry service
Possible for a small extra fee
Free luggage storage if required in case you plan a tour someplace else for a few days
Your hosts are bikers as well and know what is important to you! We are looking forward to join you on a motorbike tour through the province of Salzburg. Best enquire about a non-binding offer now.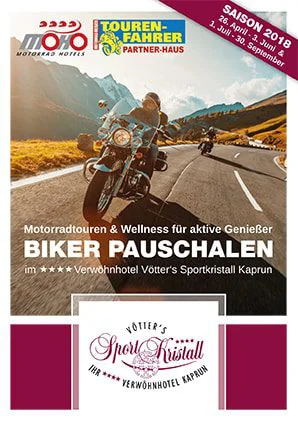 Packages 2018
---
Wir vom Verwöhnhotel Vötters Sportkristall sind außerdem seit September 2008 stolzes Mitglied der MoHo - Motorrad Hotels und gehören zur Kategorie der MoHo 4-Helme.
Unsere wunderschöne Region Zell am See-Kaprun liegt inmitten des Salzburger Landes und ist ein idealer Ausgangspunkt für einmalige, unvergessliche Touren für alle Motorradfreunde aus dem In- und Ausland.