Imprint
Verwöhnhotel Vötters Sportkristall GmbH
In accordance with Article 5 paragraph 1 of the Austrian E-Commerce Act (ECG) and Article 24 of the Media Act (MedienG), we hereby declare ourselves to be operators of this website:

Unternehmensgegenstand: Hotellerie
Verwöhnhotel Vötters Sportkristall GmbH
Schloßstraße 32, 5710 Kaprun

Tel.: +43 (0) 6547/7134
Fax: +43 (0) 6547/7134 50
E-Mail: hotel@sport-kristall.at

UID-Nr.: ATU61987639
Firmenbuch Nr.: FN268750x
Kammerzugehörigkeit: Wirtschaftskammer Salzburg
Sparte Tourismus
Fachgruppenbereich 1 - Hotellerie

Informationspflicht lt. ECG und Mediengesetz
Österreichische Hotelvertragsbedingungen
---
Concept, screen design and development:
pinzweb.at GmbH & Co KG
Oliver Resland Ing. Stefan Hollaus
Raiffeisenstrasse 4 (ground floor)
A-5671 Bruck an der Grossglocknerstrasse

Phone: +43 (0) 6545 20340
Fax: +43 (0) 6545 20340-1
E-mail: office@pinzweb.at

For any questions concerning your personal data kindly use the following e-mail address: privacy@sport-kristall.at
---
Website content
Verwöhnhotel Vötters Sportkristall GmbH accepts no responsibility for the currency, accuracy, completeness or quality of the information provided. Liability claims against Verwöhnhotel Vötters Sportkristall GmbH for pecuniary or non-pecuniary damage resulting from the use or non-use of the information provided or from the use of incorrect or incomplete information are excluded insofar as Verwöhnhotel Vötters Sportkristall GmbH cannot be shown to have acted with wilful intent or gross negligence. All offers are without obligation and subject to change without notice. Verwöhnhotel Vötters Sportkristall GmbH expressly reserves the right to vary, extend or delete part or all of the website without separate notice or to discontinue publication temporarily or permanently.
---
References and links
Verwöhnhotel Vötters Sportkristall GmbH shall be liable for direct or indirect references to third-party websites, so-called "links", outside its responsibility only in the event that Verwöhnhotel Vötters Sportkristall GmbH is aware of such content and, where the content is illegal, it would have been technically possible for Verwöhnhotel Vötters Sportkristall GmbH to prevent its use and such prevention could reasonably have been expected. Verwöhnhotel Vötters Sportkristall GmbH hereby expressly states that no illegal content was apparent on the linked pages at the time the links were created. Verwöhnhotel Vötters Sportkristall GmbH has no influence over the current and future design, content or authorship of the linked/connected pages. Therefore, Verwöhnhotel Vötters Sportkristall GmbH hereby expressly dissociates itself from the content of all linked/connected pages which have been amended since the links were created. This statement applies to all links and references appearing in Verwöhnhotel Vötters Sportkristall GmbH' own website content as well as to information entered by third parties into guest books, discussion forums, mailing lists and such set up by Verwöhnhotel Vötters Sportkristall GmbH. Liability for illegal, incorrect or incomplete content, and in particular for damage resulting from the use or non-use of such information, lies solely with the provider of the page linked to and not with the party merely referring to such publication via links.
---
Copyright and trademarks
Photo credit: © Verwöhnhotel Vötters Sportkristall GmbH (Eigene), © Europasportregion, © Fotostudio Lebesmühlbacher, © Gletscherbahnen Kaprun AG, © Maiskogel Betriebs AG, © Erlebnisberg Naglköpfl, © VERBUND AG, © Krimmler Wasserfälle, © Vorderkaserklamm, © Sigmund-Thun-Klamm, © VERBUND AG, © Bergbau- und Gotikmuseum Leogang, © Großglockner Hochalpenstraßen Aktiengesellschaft, © Wild- und Freizeitpark Ferleiten, © Nationalparkzentrum Hohe Tauern GmbH, © Seisenbergklamm, © Kaprun Museum, © Saalfelden Museum, © Pinzgauer Lokalbahn, © Mühlauersäge Fusch, © Zell am See - Kaprun, © Salzburger Land, Gerhard Kramer ( Sigmund Thun Klamm), © Kitzlochklamm, © Tauern Spa, © Region Mittersill, Hollersbach, Stuhlfelden, © Hallenbad Zell am See, © Landgut Edelweiß, © Zell am See-Kaprun Tourismus/Daniel Chytra, © Zell am See-Kaprun Tourismus/Foto Faistauer

Verwöhnhotel Vötters Sportkristall GmbH endeavours in all publications to observe copyrights to graphics, sound files, video sequences and texts used, to use graphics, sound files, video sequences and texts it created itself, or to make use of royalty-free graphics, sound files, video sequences and texts. All brands and trademarks referred to on this website and protected by third parties as the case may be are subject without limitation to the provisions of the applicable law on trademarks and the proprietary rights of the registered owner. Reference to trademarks must not be construed as meaning that trademarks are not protected by third party rights. Copyright to published material created by Verwöhnhotel Vötters Sportkristall GmbH remains solely with the author of the pages. The reproduction or use in other electronic or printed publications of such graphics, audio files, video sequences and texts is not permitted without Verwöhnhotel Vötters Sportkristall GmbH' express consent.
---
Copyright/liability
In view of the technical qualities of the internet, no guarantee for the authenticity, correctness and completeness of the information provided on the internet can be given. No guarantee can be given for the availability or the operational reliability of this website and its contents. All liability for immediate, indirect or other damages regardless of their cause that arise from the use or non-availability of the data and information of this homepage is excluded, as far as legally permissible. The content of this website is protected by copyright. The information is for personal use only. Every further use, in particular storage in databases, duplication and every form of commercial use as well as transfer to third parties – in parts or in revised form – without approval of the website owner is prohibited. Any integration of individual pages of our content in external frames must be refrained from.
---
Other
Insofar as parts or individual wordings of this text do not comply with current legislation, no longer do so, or do not do so fully, the content and validity of the remaining sections of the document will remain unaffected.
---
Google Analytics
This website uses Google Analytics, a web analytics service provided by Google, Inc. ("Google"). Google Analytics uses so-called "cookies", text files placed on your computer, to help the website analyse how users use the site. The information generated by the cookie about your use of the website (including your IP address) will be transmitted to and stored by Google on servers in the United States. Google will use this information for the purpose of evaluating your use of the website, compiling reports on website activity for website operators and providing other services relating to website activity and internet usage. Google may also transfer this information to third parties where required to do so by law, or where such third parties process the information on Google's behalf. Google will not associate your IP address with any other data held by Google. You may refuse the use of cookies by selecting the appropriate settings on your browser, however please note that if you do this you may not be able to use the full functionality of this website. By using this website, you consent to the processing of data about you by Google in the manner and for the purposes set out above.

If you do not want us to analyse your IP address, language settings, end device etc., we recommend using the Google Analytics browser add-on to deactivate Google Analytics. The browser add-on to deactivate Google Analytics grants you more control of which of the data on websites accessed are gathered by Google Analytics. The add-on notifies the JavaScript (ga.js) of Google Analytics not to transmit any information on the website visit to Google Analytics.

If you want to use this function, download the add-on and install it for your current browser. The browser add-on to deactivate Google Analytics is available for Internet Explorer, Google Chrome, Mozilla Firefox Apple Safari and Opera.
Download
https://tools.google.com/dlpage/gaoptout?hl=en-GB
---
Data privacy statement for the use of ShareThis
This website uses plugins of the bookmarking service ShareThis operated by ShareThis Inc. ("ShareThis"), 250 Cambridge Avenue, Palo Alto, CA 94306, USA. Upon accessing our website, ShareThis learns your IP address and that you've visited the website of Verwöhnhotel Vötters Sportkristall GmbH with this IP address. The ShareThis plugin allows users to set bookmarks to websites available on the internet and to share or post the links to the respective website/recommend contents on it on social networks, such as Twitter, Facebook, Xing or Google+. If a visitor uses one of this functions while being online on the respective service (e.g. Twitter, Facebook or Google+) at the same time, the visit of our website is attributed to the respective user on the corresponding service. Find more information on the collection, analysis and handling of your data by ShareThis as well as your corresponding rights in the data privacy statement of ShareThis at http://www.sharethis.com/legal/privacy/.
---
Data privacy&cookies
Data privacy statement in accordance with the Telecommunications Act (TKG) and the Data Protection Act (DSG)

Data processing
Personal data which you have sent to us via a website or e-mail will only be processed for correspondence with you and only for the purpose for which you've provided us with your data. The data provided will only be disclosed to the department responsible within the company.
We assure you that your personal data will not be disclosed to third parties, unless required by legal guidelines.

Data storage
The data provided to us will only be stored until the purpose for which they were entrusted with us has been served. Statutory retention periods will be respected insofar as these must be observed.
Should you no longer agree with the storage of your personal data, we will delete the data stored upon your instruction. If your personal data has changed, we will correct it upon your notice.

Changing the cookie settings
Specify which cookies you accept or reject in your browser settings (e.g. Internet Explorer, Safari, Firefox, Chrome). The exact location of said setting depends on your browser. Find the respective settings with your browser's help option.
---
Online dispute resolution
Since 9 January 2016, an EU regulation on online dispute resolution applies in consumer affairs (No. 524/2013). Disputes between consumers and merchants in connection with online sales contracts or online service contracts can be settled on the following online platform: http://ec.europa.eu/consumers/odr/
---
Regular Guest Club (Guest Club)
This website uses KunLeiSys Guest Club software (Regular Guest section). The provider is GASTROpoint GmbH, Pommernstraße 17, 83395 Freilassing, Germany. KunLeiSys Guest Club software is a service for organising and administering the Guest Club, offers, loyalty points, e-mails about events and the distribution of newsletters. You can register to become a member of the Guest Club on our website. All the personal information you provide shall only be used for the purpose of the respective offer or service. The mandatory information requested for registration must be provided in full. If it is not, your registration will be declined. The personal data you provide on registration shall only be used as specified in your consent (Art. 6 Para. 1(a) GDPR). You are able to withdraw your consent free of charge at any time. This can be done via the unsubscribe link in the e-mail or the unsubscribe option in the Guest Club.
We shall store the information you have provided for the purpose of the Guest Club until such time as you unsubscribe and, as soon as you have unsubscribed and your Guest Club account has been deleted, your details shall be deleted from our servers and the servers of GASTROpoint GmbH.
We shall inform you of any important changes relating to the scope of the services we offer or that are necessary for technical reasons via the e-mail address you provided on registration or saved in your profile. This does not affect statutory retention periods. We have signed a contract data processing agreement with GASTROpoint GmbH and shall fully comply with the strict requirements imposed by the data protection authorities in our operation of KunLeiSys Guest Club software. Please complete the mandatory fields on the registration screen, as otherwise your registration cannot be
processed.
---
We care about the security of data. We only use them emarked and only pass them on to our partners, if they contribute to the fullfillment of purpose regarding our specific assingment. According to the EU-General-Dataprotection regulation ( LINK) and according to the Federal Law 2017/120 of the Republic of Austria starting 25.5.2018 users have the right to obtain free information on request about all stored personal data. In addition each customer or user is allowed to ajust incorrect data, block, or delete his personal data. The only exception is that we have the legal obligation to preserve business or reporting records.
---
Zell am See – Kaprun Summercard Data Protection Declaration: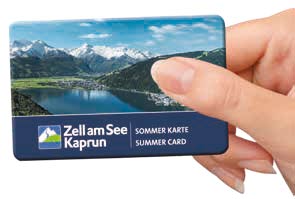 Your data is required for the official guest report and will be forwarded to the local town council. ?Furthermore, on condition of your prior consent to indentifiy your person within the Zell am See - Kaprun Sommerkarte system, your data will be accessible for the Zell am See - Kaprun tourist board and cable car company as well as the system provider CapCorn. By using the Zell am See - Kaprun Sommerkarte, your access to the facilities of our service partners (Zell am See - Kaprun Sommerkarte partners) will be recorded and temporarily saved. This data is required for internal accounting and will be erased and deleted at the end of the year. The information will not be disclosed to third parties. As the main traveller or tour guide, you must declare that this information has been passed on to fellow travellers. So to obtain consent.
Data Protection Consent
You agree with the use of the Terms and Conditions and personal data being provided in the official guest report for the purpose of issuing the Zell am See - Kaprun Sommerkarte. Also, you agree that your access transactions are recorded and may be assigned to you as a person. The Zell am See - Kaprun Sommerkarte can only be issued once the agreement has been obtained.
---
Wir vom Verwöhnhotel Vötters Sportkristall sind außerdem seit September 2008 stolzes Mitglied der MoHo - Motorrad Hotels und gehören zur Kategorie der MoHo 4-Helme.
Unsere wunderschöne Region Zell am See-Kaprun liegt inmitten des Salzburger Landes und ist ein idealer Ausgangspunkt für einmalige, unvergessliche Touren für alle Motorradfreunde aus dem In- und Ausland.